More Shining Reviews For The All-New 2019 Jeep Gladiator and Ram 1500 Interiors
The Jeep® Gladiator and Ram 1500 have been named to Autotrader's 10 Best Car Interiors Under $50,000 for 2020 list.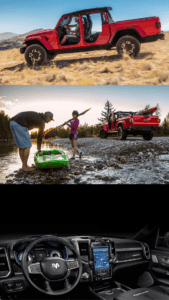 Every year, Autotrader's editors thoughtfully review the latest models for their 10 Best Car Interiors Under $50,000. For 2020, the Jeep Gladiator makes the list in its first year of availability while the Ram 1500 also joins, making the list for the third time in three years (2018, 2019, 2020). Gladiator and 1500 are the only pickup trucks to earn a spot on this coveted list.
"The Jeep Gladiator's interior is perfectly in line with the overall ruggedness of the Gladiator pickup. We picked the Gladiator, not because of any inherent luxury, but because it somehow manages to be stylish, functional and comfortable without being garish or soft," said Brian Moody, Executive Editor of Autotrader. "Like the Gladiator itself, this Jeep's interior is purpose-driven and is the perfect assistant to whatever task is at hand – it looks cool and effectively mimics the tough, functional exterior while remaining authentic to all we expect from Jeep."
Editors rate interiors on comfort, quality of materials and logic of use to help consumers find the top vehicle choices that recognize the importance of quality interior design.